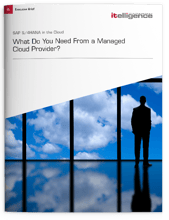 Many enterprises today are looking to Managed Cloud services to simplify IT, reduce costs, and better support business innovation. A Managed Cloud service provider can offer robust data center facilities, application resources, and SAP know-how to help you get the business value you need quickly and easily. But…
How do you choose a Managed Cloud provider?
Download our free Executive Brief outlining what to look for in a Managed Cloud provider from three different decision maker perspectives:
Executive – those responsible for development and achievement of company strategy
IT – those responsible for technology infrastructure and strategy
Business – those responsible for overall business success, who work to lead, manage, and develop people
Learn how you can minimize risk and focus on what you do best today!