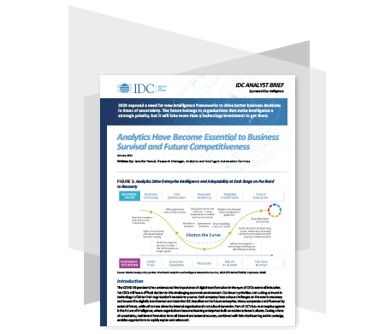 One of the lessons that came out of 2020 was that new intelligence frameworks are needed to drive better business decisions in times of uncertainty. The future belongs to organizations that make intelligence a strategic priority, but it will take more than a technology investment to get there.
According to a recent IDC Analyst Brief sponsored by NTT DATA Business Solutions, enterprise intelligence is already starting to define future winners. Organizations that are able to harness the power of their data-driven culture, the data literacy of their employees, and the processing power of their technology are showing greater resiliency.
For additional insights, download the IDC Analyst Brief, Analytics Have Become Essential to Business Survival and Future Competitiveness.

Download your complimentary copy today.
Copyright 2020 IDC. All rights reserved.