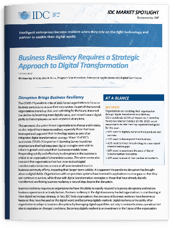 Business resilience requires the ability to respond rapidly to business disruptions and restore business operations in a timely manner. To achieve those goals, businesses need to take a hard look at their digital technology strategy.
According to IDC, one of the first steps a business must take toward digital resiliency is to make the enterprise more agile, adaptive, collaborative, integrated and innovative with the use of a digital technology backbone. This means shifting away from traditional on-premises technology toward more modern, innovative cloud technology that can sense and respond as needed.
To learn more, download the IDC Market Spotlight, Business Resiliency Requires a Strategic Approach to Digital Transformation.