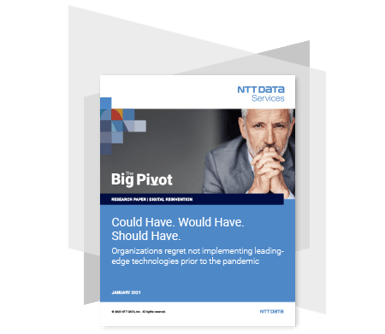 Seven in ten organizations indicate they would be more resilient today if they had invested in digital technologies prior to the crisis.
Hindsight is always 20/20, but while many companies are still struggling to regain a foothold, some are actually thriving, despite widespread disruption. In a survey conducted by NTT DATA Services, about 10% of respondents were more likely to report an increase in revenue, as well as improved customer and employee satisfaction, since the start of the crisis. What has given them an edge over the rest?
By analyzing key survey findings, NTT DATA Services uncovered why Leaders are more resilient and agile than other respondents, which technologies helped them achieve success and what other organizations can learn from them to prepare for what comes next.
Download the research paper, The Big Pivot: Could Have. Would Have. Should Have.