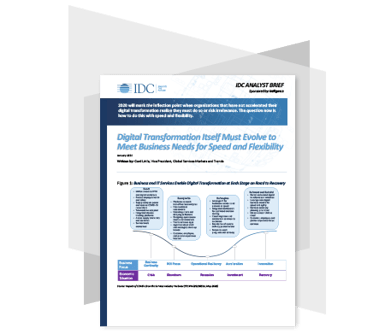 According to a recent IDC Analyst Brief sponsored by itelligence, like it or not, CEOs are increasingly acknowledging that they need to lead digital transformation in their organizations. And given the high levels of uncertainty and rapid change in the current environment, they are very likely to accelerate the rotation to smaller, faster projects that can be assembled into larger pieces, like so many Lego bricks.
CIOs championed this idea of disassembly and reassembly before the pandemic, in reaction to the many risks, and often failures, realized over decades of trying multiyear, large-scale IT implementations. Smaller and faster projects will help organizations become more flexible in implementing operating model changes, not only during their digital transformation, but beyond.
For additional insights, download the IDC Analyst Brief, Digital Transformation Itself Must Evolve to Meet Business Needs for Speed and Flexibility.
Download your complimentary copy today.
Copyright 2020 IDC. All rights reserved.