Rethinking Digital Transformation for the Consumer Products - Food Industry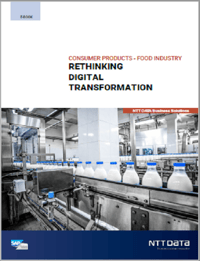 There's no question that the current pandemic has presented significant challenges for the food industry, yet within those challenges are opportunities to move forward stronger than before.
In the short term, the pandemic is driving new consumer behaviors and uncertainty that present immediate challenges for supply chains, manufacturing and demand management. Longer term, the accelerating pace of change in business and technology will continue to create more disruption, faster than ever.
We believe the path forward will require a new approach to digital transformation. This service-based approach replaces traditional large-scale projects with a series of smaller projects that provide a quicker, smarter way to respond to changes in technology, your industry and your business.
To learn more, download our e-book.