Rethinking Digital Transformation for the Life Sciences Industry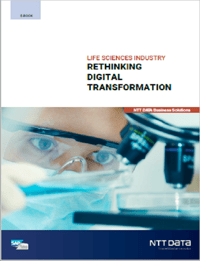 The current pandemic has impacted the life sciences industry in a variety of ways. From shortages of personal protective equipment, to a surge in demand for pharmaceutical and medical device companies to manufacture consumables, sanitizers and diagnostic kits, life sciences companies have risen to the challenge -- all while struggling to overcome supply chain disruptions.
Many life sciences businesses had already started down the path toward digital transformation, but the pandemic has created a greater sense of urgency. Post-crisis, the industry will likely have a greater focus on digital transformation initiatives to ensure it is better prepared to handle future disruptions.
We believe the path forward will require a new approach to digital transformation. This approach will replace the traditional series of lengthy technology projects with a service-based approach that provides a quicker, smarter way to respond to changes in technology, in the industry and in your business.
To learn more, download our e-book.