Rethinking Digital Transformation for Manufacturers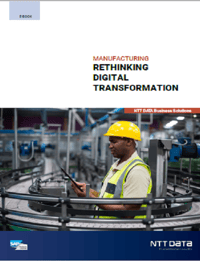 In the past decade, advances in technology have enabled manufacturers to achieve significant efficiencies with their supply chain and manufacturing operations. In fact, according to McKinsey & Company, manufacturers that embraced these technologies are already seeing a 7% revenue growth advantage over their peers.
The impact of the current pandemic will likely create a much deeper divide between manufacturers that have digitized and those who are just starting to digitize their operations.
We believe the path forward will require a new approach to digital transformation. Manufacturers need a service-based approach that replaces traditional large-scale projects with a series of smaller projects that provide a quicker, smarter way to respond to challenges in technology, the industry and the business.

To learn more, download our e-book.