Rethinking Digital Transformation for the Professional Services Industry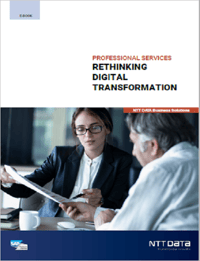 There's no question the current pandemic poses serious challenges for the professional services industry. But within those challenges lies the opportunity to move forward stronger than before.
The professional services industry was able to adapt swiftly and support clients with effective collaboration and remote delivery of services. Nevertheless, there is still work to be done if professional services firms are to succeed in the 'new normal.' They will need to rethink current business models to ensure a stable revenue stream. They will need the ability to truly understand the sentiments and needs of both employees and clients in order to develop effective strategies to address demand uncertainty, talent supply disruptions and workforce constraints.
To get there, the professional services industry will need a new approach to digital transformation. This service-based approach replaces traditional large-scale projects with a series of smaller projects that provide a quicker, smarter way to respond to changes in technology, the industry and the business.
To learn more, download our e-book.