Rethinking Digital Transformation for the Mill Products Industry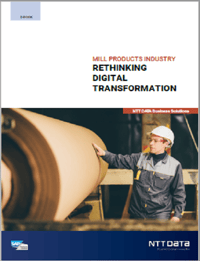 The impact of the current pandemic on the mill products industry varies significantly by category, as businesses adjust to uncertain demand and upheaval in supply chains. While some face skyrocketing demand for paper-based products, others are seeing a sharp drop in demand.
Mill products manufacturers need to assess how to best mitigate the negative while taking advantage of any opportunities. They will need to measure and manage shifts in demand and address supply chain disruptions, production capacity issues, and workforce constraints in the short, mid, and longer term.
We believe the path forward will require a new approach to digitally transforming the business so it can respond to these challenges. This approach will replace the traditional series of lengthy technology projects with a service-based approach that provides a quicker, smarter way to respond to changes in technology, in the industry and in your business.
To learn more, download our e-book.