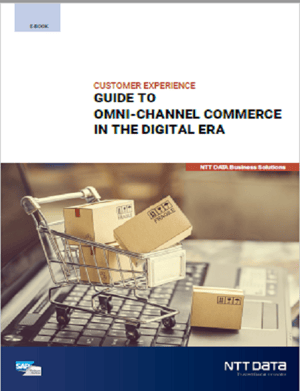 Digital transformation has touched every industry, and the pace of change is faster than ever. Today's businesses face tremendous challenges to differentiate, adapt, and meet ever-changing buying behaviors of digitally empowered customers.
The truth is, many businesses cannot support an omni-channel customer journey today, with only 12% able to provide a seamless hand-off between channels. Legacy applications, integration challenges, and data silos get in the way.
To compete in today's digital economy, you'll need these capabilities:
Deliver a seamless customer experience at every touch-point, every time. This means synchronizing across all channels (online, social, mobile, call center) and using agile, streamlined back-end processes for more consistent customer interactions.
Attain a single view of customers for the company, and a single view of the company for customers, through singular, centralized product and customer information across all channels.
Drive revenue and customer conversions through personalized real-time customer experiences and promotions and shorter time to market, with simplified expansion to additional channels.
Download our eBook, Guide to Omni-Channel Commerce in the Digital Era, to learn how you can begin to address these challenges.