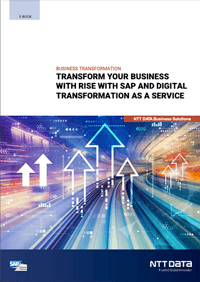 Change has always been a part of business. But for the past few years, we've been talking about a more significant form of change – digital transformation – and how innovation in business process and business models were fundamentally disrupting what we thought were well-established categories.
Business leaders know that technology is the key to driving business transformation, and that transformation is key to keeping pace with the rate of change. And they understand that in today's world, multi-year digital transformation initiatives simply aren't an option.
In this e-book, we take a deep dive exploring the RISE with SAP offering along with our digital transformation services, to help you make the best decisions for your business.