The Total Economic Impact™
Of SAP Sales Cloud And SAP Service Cloud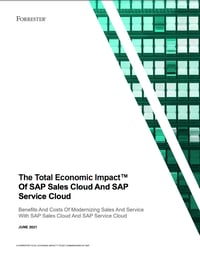 Forrester Research conducted a total economic impact study to examine the return on investment of a digital transformation from manual processes and legacy tools to SAP Sales Cloud and SAP Service Cloud. As part of this process, they interviewed five SAP customers fitting this profile in order to evaluate the benefits, costs, and risks associated with this kind of investment.
Here are some of the results they had were:
A 372% return on investment within 3 years and a payback period of less than 6 months.

Sales force automation enabled by SAP Sales Cloud drove a revenue uplift of 4.9%.

Revenue retention and loyalty was improved and reduced churn by 8% to 12%.

SAP Service Cloud combined with SAP Sales Cloud delivered an additional uplift of 10%.
Learn how they did it by downloading the full report.