SAP Application Management Services:
Pick what's right for your business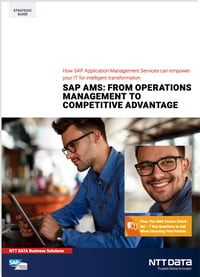 SAP Application Management Services (AMS) does not have a one-size-fits-all scenario. Each company's needs are unique when it comes to SAP applications as well as their interplay with each other and third-party systems. Beyond that, the partner you pick to work with can also have a deep impact, depending on the expertise and value-added services that you need. So here is a strategic guide to help answer your questions and identify the model, level of engagement, and partner that fits your business.
Here's what you'll learn:
Which services are provided with SAP AMS

The key components of each engagement model

The top 7 questions to ask when choosing your partner

What NTT DATA Business Solutions brings to the table